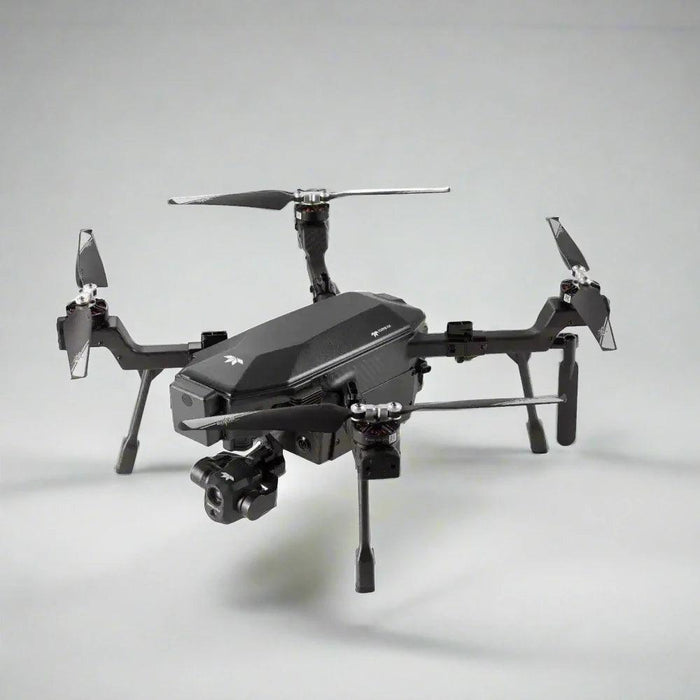 Teledyne FLIR SIRAS Drone: Advanced Thermal and Visible Camera Payload
Original price
$9,695.00
-
Original price
$9,695.00
Teledyne FLIR SIRAS Drone: Advanced Thermal and Visible Camera Payload
Introducing the remarkable Flir Teledyne Thermal Drone, a groundbreaking solution that redefines professional aerial imaging. This cutting-edge drone combines the power of thermal and visible cameras to provide unmatched versatility and precision in various industries.

Equipped with state-of-the-art thermal imaging technology, the Flir Teledyne Thermal Drone empowers users to see beyond the visible spectrum. It captures high-resolution thermal imagery, allowing for enhanced detection, analysis, and monitoring of heat signatures in real-time. From identifying hidden thermal anomalies to detecting temperature variations, this drone delivers invaluable insights that are otherwise impossible to obtain.

Not only does the Flir Teledyne Thermal Drone excel in thermal imaging, but it also features a high-quality visible camera payload. This dual-camera system ensures you have the flexibility to capture both thermal and visible light images simultaneously, providing a comprehensive visual perspective on the scene. Whether it's detailed inspections, search and rescue operations, or environmental monitoring, this drone enables professionals to gather crucial data with utmost precision.

Designed with professionals in mind, the Flir Teledyne Thermal Drone boasts exceptional flight capabilities and intelligent features. Its advanced flight control system ensures stability, smooth maneuverability, and precise navigation, even in challenging environments. With customizable flight paths, waypoint navigation, and autonomous flight modes, you can effortlessly plan and execute complex missions with confidence.

Moreover, the Flir Teledyne Thermal Drone is built to withstand demanding conditions. Its rugged construction and weather-resistant design ensure reliability and durability in adverse situations. You can confidently deploy this drone in various industries, including public safety, infrastructure inspection, energy management, agriculture, and more.

Enhancing the Flir Teledyne Thermal Drone's capabilities further is its comprehensive software suite. The intuitive and user-friendly interface enables seamless control, image analysis, and data management. With advanced post-processing tools, you can extract valuable insights and generate detailed reports to drive informed decision-making.

Experience the future of aerial imaging with the Flir Teledyne Thermal Drone, where thermal and visible imaging converge to unlock a new realm of possibilities. Stay ahead of the competition, improve operational efficiency, and gain unparalleled situational awareness with this professional-grade drone at your command.
Aircraft
Collision Avoidance:  Front Facing Radar: up to 30 m, when flying <5 m/sec speed Ground detection via underside sensors
Default Ground Speed:  5 m/sec (11.2 mph)
Disconnect Return To Home:  Yes
Foldable Props:  Yes
Geo-Fencing:  None
Hover Accuracy:  Vertical: ± 0.5 m (± 1.6 ft) Horizontal: ± 1.5 m (± 5 ft)
Ingress Protection:  IP 54
Maximum Ascent Speed:  6 m/sec (13.4 mph)
Maximum Decent Speed:  4 m/sec (9 mph)
Maximum Descent Speed:  4 m/sec (9 mph)
Maximum Ground Speed:  18 m/sec (40 mph)
Night Flight Beacons:  Yes (red and white), on/off & blink options
Operating Environment:  - 10°C to 40°C (10 °F to 104 °F)
Take Off Readiness:  1 min after power ON
Wind Resistance:  10 m/s (22.4 mph)
Battery
20% Battery Warning:  Yes, visual and audio signal
Battery Power:  6,000 mAh
Charging Temperature Range (Celsius):  5 °C to 50 °C (41 °F to 122 °F)
Charging Time:  45 min
Hot Swappable Batteries:  Yes
Max Charging Current (A):  6 A
Maximum Flight Time:  31 min (rated)
Maximum Hovering Time:  28 min (rated)
Return To Home:  Yes. 10% Battery
Storage Temperature And Humidity:  Room temperature and <70% is recommended
Gimbal
Max Control Speed:  120°/sec (pitch, pan, roll)
Maximum Rotational Range:  Pan: ±90°; Pitch -120° to +30°
Motion:  3-axis
Stabilization:  Plus / Minus 0.02°
Imaging & Optical
EO Camera Optics:   Effective Focal Length (EFL) 4.8 mm, 67° HFOV, F/# 1/2.3
EO Camera Resolution:   16 MP with 20 MP mapping mode, 128x zoom
FLIR MSX:   Yes
IR Camera Optics:   Effective Focal Length (EFL) 13.6mm, 32° HFOV, F/# 1.0
IR Camera Resolution:   640 x 512, radiometric, 5x zoom
IR Video Frame Rate:   60 Hz
Radiometric Features:   Spot meter, Isotherms, Region of Interest (ROI)
Remote Controller and Transmission
Built-In Battery:  300 min
Display Brightness:  1,000 lumens
Display Latency:  <1 sec
Layout:  Mode 2
Operating Distance:  9 km (6 miles)
Operating Frequency:  Dual Ban: 2.4 GHz / 5.8 GHz
Transmission Quality:  1080P, 30 fps
Storage
Internal Storage:  Formatted 64 GB micro SD (provided with aircraft)
SD Storage:  1 GB